Mossyard has been the home of the McConchie Family for five generations and offers visitors the hospitality of a family run tourism business with the attractions of a working farm.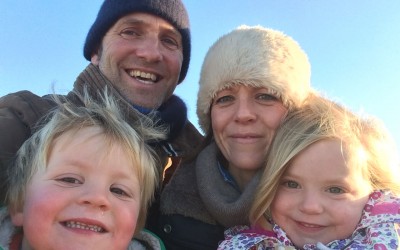 John & Joanna McConchie – We returned to Mossyard in 2000 to join the family business.  We initially worked with John's mum, Caroline who had been in the hot seat since 1972.  Caroline stepped back as we stepped up to the role of running a busy caravan park and the holiday cottages.  What was once a one lady job, with the odd evening contribution from a local farmer, now keeps both of us employed full time, along with full time team member Graeme and our part time reception/housekeeping team who all help keep this show on the road! Our twins, Jack Kerr & Lucy Grace arrived in October 2012 - the 5th generation of McConchies to live in the farmhouse!
Kerr & Caroline McConchie - Mum & Dad to John, Murray and Duncan!  Kerr & Caroline have stepped back from their day to day roles at Mossyard but are still very much involved in the family business.  Their never ending support, encouragement and advice keeps us all going and without them we wouldn't be where we are today!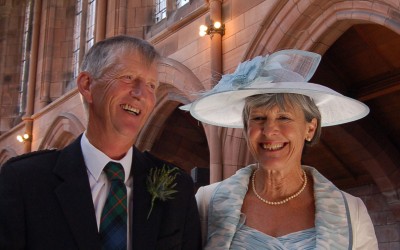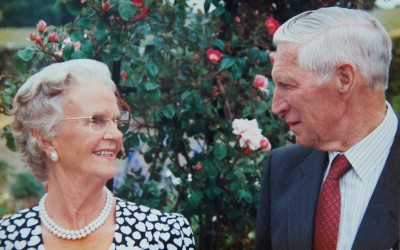 Margaret McConchie (aka Granny/GG) - Granny, lived at Laggan until she passed away in December 2020 at the age of 101. She was a truly wonderful lady, an inspiration to us all - and what a legacy she created!  
A beef and sheep farm totaling 1300 acres, Mossyard and Laggan are divided into 1000 acres of hill grazing and 300 acres of lowland grazing.  Our cattle herd is made up of 110 suckler cows.  This includes Angus, Saler and Limousin cross cattle breeds.  The flock of sheep numbers 600 between both farms with pure breed Blue Face Leicesters, cross ewes and Black Face ewes amongst the breeds.
Lambing = March

&

April.
Calving = March

&

April, September

&

October
Silage = 1st cut in June, 2nd cut in August
Shearing = June/July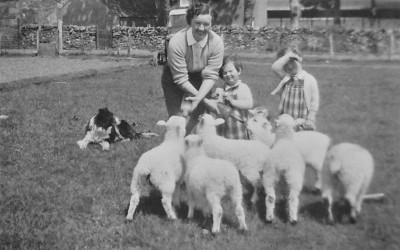 The History of the Mossyard McConchies.....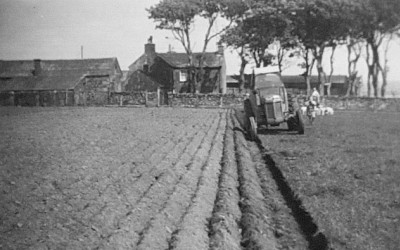 John & Peggy McConchie, married in August 1911 and were the first of the McConchie family to take up residence at Mossyard.  At that time Mossyard was part of Cardoness Estate and John & Peggy were tenant farmers.  They had a daughter Annie, in 1913, followed by John in 1915.  When John left Gatehouse Secondary School he joined his father and helped him farm at Mossyard. 
Mossyard became a popular caravan destination as early the 1930's.  The most famous residents at that time were the Glasgow boys and they spent many happy hours painting here.  It is fondly remembered that on one occasion 'the boys' left their paintings out to dry and when they returned the bullocks had licked their canvases clean!!!  In time this would turn out to be a very valuable day's work ruined!!!
The day the Second World War broke out, the top field was full of touring caravans.  When the news broke, everyone packed up and headed home!  In 1942, during the midst of war, John McConchie married Margaret Sproat and so another generation took on the tenancy at Mossyard.  And with this generation came an amendment to the tenancy agreement – only 3 caravans, tents or hutments were allowed on Mossyard at any one time and they must be personal friends of John & Margaret McConchie (known to us today as Granny & Grandpa!).  Granny quite rightly says that they were friends with everyone by the time they left Mossyard so it wasn't a huge problem!!!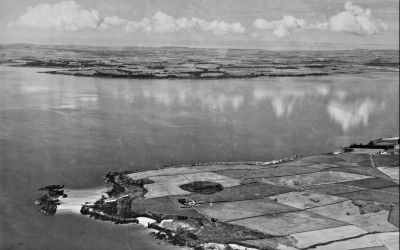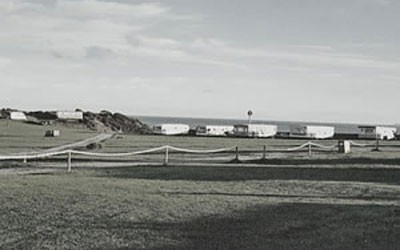 Caravans slowly returned to Mossyard after the war finished in 1945 but the new rule was restrictive and it was added to further when in 1958 Granny & Grandpa were in the process of buying the farm from Cardoness Estate - just as the sale was about to be completed the National Trust for Scotland presented them with a Conservation Agreement repeating the '3 caravan rule' that had been upon them in the tenancy.  If Granny & Grandpa hadn't signed the National Trust Agreement the sale would have fallen through and they would have lost Mossyard!
Granny & Grandpa had 5 children - Ian, Kerr, Andrew, Elizabeth and Eleanor.  Granny & Grandpa moved to Laggan Farm when Kerr married Caroline in 1972 - the third generation of McConchies to take over at Mossyard.  
Kerr & Caroline had 3 boys, John, Murray & Duncan.  Caroline followed in Granny's footsteps and took on the running of the caravan park along with raising the boys. In 1991 Craignesket Cottage, no longer in use as a farm workers cottage, became a self catering letting unit.  Threaby Cottage followed in 1994, and Edenville Cottage in 1999. 
John & I returned to Mossyard in 2000 and 2001/02 saw the next major development - the Headland changed from a winter grazing area to the home of 9 lodges.  In 2006 lodge number 10 was added to the Headland - a new home for Kerr & Caroline. We moved from Meadow Cottage into the farmhouse and Murray moved from The Bothy into Meadow Cottage! You can only imagine the logistics of all this!!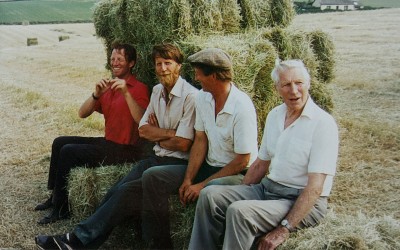 The winter of 2013 saw us gain permission for 12 new lodges in the Dam Field - a long awaited and wonderful extension for Mossyard.  Work also began on Craignesket, no longer to be a self catering cottage but Murray & Amy's new 'married' home!  They moved out of Meadow Cottage in early 2014 and this property underwent a complete renovation so it could join the rest of our self catering properties.
2015 was the next year of exciting change for us all - with an ever expanding clan of McConchies our thoughts turned to succession planning and the decision was made to split the original McConchie Partnership. Murray & Amy took on the farm, John & I the caravan park & self catering at Mossyard and Duncan & Vicki have Laggan.  We all feel very proud and blessed to be running our own businesses independently whilst still keeping our family ethos going strong for future generations!
And so it's over to John, myself, Lucy & Jack!!  We have been busy since 2015!!  We have completed a renovation on The Bothy, bought Dunford Cottage, a self catering property in Northumberland and added 2 static caravans and 5 more lodges on the headland to the self catering options here at Mossyard.  
It is with a huge amount of pride that I write this as the fourth Mrs McConchie to live at Mossyard taking this very special place forward for the fifth generation of McConchies!
We hope you will love it as much we all do!!!